Welcome to Paramount Tennis Club - Medina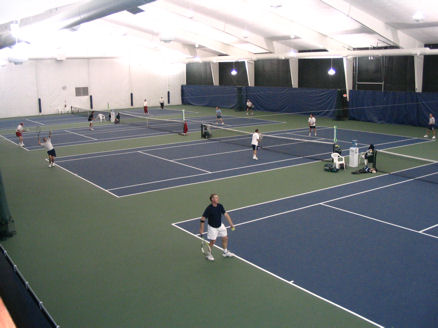 Paramount Tennis Clubs in Medina and Westlake are state of the art tennis facilities serving the entire Northeastern Ohio community.The professionally staffed, full service tennis centers offer unsurpassed quality programming and facilities to members and the general public. Whether you're interested in group or private lessons, friendly Round Robins, sanctioned tournaments or USTA league tennis, Paramount Tennis Club is the place for you.

Eight indoor, climate controlled, US Open Blue tennis courts are available for your use,seven days a week. The pro shop is stocked to satisfy all of your tennis needs. We provide fast service on all your stringing needs, using the finest quality material and workmanship.

Paramount Tennis Clubs tennis instructors provide exciting programming for the novice through advanced player and junior through senior players. The goal of the tennis program is to take every player's game to the next level. We will do this through fun games, expert instruction, and a passion for the game. If you are new to tennis, learn with us and get it right the first time. If you are already ranked and looking for intense training with certified professionals, look no further!
Our fun and health conscious atmosphere makes it easy to learn the sport of a lifetime and enjoy improving your tennis skills. We look forward to seeing you on the courts!

Each of our facilities includes:
Eight (8) indoor tennis courts

Climate controlled environment

U.S. Open Blue courts

10,000 sq. ft. two story clubhouse with 2nd floor member lounge with direct court views

Fully appointed locker rooms and showers

The finest in professional tennis instruction for juniors and adults

Tennis pro-shop offering tennis clothing, accessories, shoes, racquets and racquet stringing

USTA leagues and tournaments

Daytime Interclub leagues
Paramount Tennis Club 5041 Paramount Blvd. Medina, OH 44256 (330) 239-1800 Fax (330) 239-1866
Paramount Tennis Club 31550 Viking Parkway Westlake, Oh  44145 (440) 250-9081 Fax (440) 250-9076